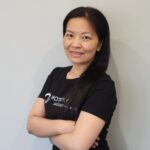 Registered Massage Therapist
Anna has a strong passion for working with people in the health care field. She was first introduced to Massage Therapy when she was in Hong Kong and very quickly fell in love with it. She pursued to enroll in the Massage Therapy program in Toronto and obtained her licensing. In addition, she is currently studying to become an Acupuncturist to further expand her knowledge as well as adding an additional tool in her toolbox for her clients. Anna's primary goal is to assist the clients to reach the path to a better health care.
Outside of the clinic, Anna loves to spend time being active with hikes, badminton or tennis. She is also a big foodie that loves cooking and eating!
Why should clients choose you as their provider instead of others in the area?
I believe in order to get the best treatment, having clear communication and understanding of the issues are key. I am patient and have the ability to work through a treatment plan with a combination of treatment techniques to accomplish our goal based on your chief complaints. I will continue to reassess and review your prior treatment and progress to readjust if needed. I will have open communication with your current health team, if you're also seeing other health practitioners (Chiropractor, Physiotherapist, RMTs or Naturopathic doctor) within the clinic, to collaborate in the most effective treatment for you. Our sessions will consist of continuous interaction, assessment, reassessment and feedback.
I practice general Swedish massage with a variety of techniques, using light to medium to hard pressure while adjusting it accordingly to your sensitivity and preferences.
What are you proud of in your practice?
I am proud of my clients as they increase their motivation to take control of their health. As a health professional, I appreciate and cherish that I can grow with my clients in their health care journey.
After gathering so much experience in treating various complaints, I have become more and more confident in treating and seeing any types of complaints. I love to be able to help the patient identify their chief complaint and target the key point areas during treatments to break down muscle adhesions and to promote blood flow to the area. The end result I seek is to help find the cause of the problem and focus the treatment on that along with proper referral to another healthcare specialty such as Chiropractor or Physiotherapist if needed.

Availability
Tuesday 10 am – 8 pm
Wednesday 10 am – 8 pm
Saturday 10 am – 5 pm
Clinic Open 7 days