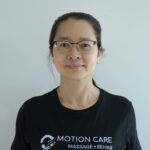 Christine Peng
Registered Massage Therapist
Christine is an experienced Registered Massage Therapist with a client-centered approach to therapy. She has a deep interest in human movement, and how it is an integral part to a healthy lifestyle.
She has gained broad exposure/experiences treating individuals with various complaints ranging minor to complex issues such as with chronic neck and back pain, tension headaches, frozen shoulder, piriformis syndrome, and stress related conditions. Her treatments will involve a custom plan that is catered to her patients' needs allowing her to bring a unique perspective and integration of manual therapy, and how it compliments movement.
Her expertise revolves around:
● Swedish Massage
● Trigger point
● Myofascial
● Deep tissue
● Friction
She consistentlyseeks continuous education through courses and opportunities to help expand her skills/knowledge base to provide the most effective care for her patients.
She is fluent in English, Mandarin, and Cantonese. In her downtime, she enjoy dancing class, hiking with friends, and of course – spending time with family.
Availability
Tuesday 10 am – 8 pm
Thursday 3 pm – 8 pm
Clinic Open 7 days