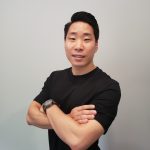 Hyunmo (John) Cheong
Registered Massage Therapist
John is a Registered Massage Therapist with vast experience treating small to complex cases through manual therapy and movement programs. He understands the physiology, anatomy and mechanisms of injury for various sports related problems. John is known to be a good listener and believes in fully educating his patients to achieve their goals in living a pain free life. Being an avid soccer player, he's had his fair share of injuries in the past which exposed him to many health professionals and educated himself further on the human body.
In John's free time, you can find him kicking a ball, educating himself, and cooking up a feast!
Why should patients choose you as their provider instead of others in the area?
I'm a patient oriented, who will provide treatment specific to your lifestyle and body type, whether you want relaxation, pain free, improving postural dysfunction, and/or physical and emotional health.
What are the top 3 treatments that you focus on?
My specialties are:
Pain relief by Swedish Massage Techniques, Deep Tissue Techniques, Myofascial Release Techniques, and Strengthening and Exercises
Improving physical and emotional health by assessing postural dysfunctions and using Stretching Techniques.
Stress relief by Swedish Massage Techniques and Stretching Techniques
What are you proud of in your practice?
Of course, I'm most ecstatic when I see patients relieved from the pain/tension that they've suffered for many years! As an active person who enjoys playing various sports, it's not surprising to see that playing sports will generate wear-and-tear injuries. I am passionate in developing and educating on how to prevent injuries and continue to do what they love.
Which cases do you enjoy treating? Why?
I am passionate in treating:
Various type of common and unique patients and cases
Postural dysfunction and fitness/sport-related injury
Correct postural helps to decrease creating any pain in body and that lifestyle will help anyone to keep their body in health.

Availability
Tuesday 10 am – 8 pm
Thursday 3 pm – 8 pm
Clinic Open 7 days