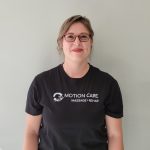 Kelly Ferguson
Registered Massage Therapist
My name is Kelly Ferguson, I spend most of my time with my family, I love being outdoors, hiking and working out. I have been an RMT for 11 years. I enjoy treating whiplash, carpal tunnel syndrome and sciatica. I enjoy treating these conditions because I find them challenging in the sense that they never present in the same exact way and everyone needs a slightly different treatment.
I take pride in listening to my clients to get them what they are looking for from their massage therapy appointments. I do a mix of therapeutic treatments coupled with a little bit of relaxation. I have worked at spas (1 year) as well as rehabilitation for people who have been in motor vehicle collisions for 10 years.
I love what I do and I couldn't have chosen a more fitting profession. I have taken courses in myofascial release, Reflexology, pelvic health rmt course. Trained in basic suikodo techniques sports massage, and pre/post pregnancy massage.
With a little bit of education and a helping hand everyone can lead a more pain free life so, you can get back to what matters.

Availability
Wednesday 3 pm – 8 pm
Friday 10 am – 3 pm
Saturday 10 am – 5 pm
Clinic Open 7 days