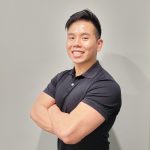 Registered Massage Therapist
Peter is a Registered Massage Therapist with a strong passion for health and fitness. He is a graduate of Sutherland-Chan School of Massage Therapy. Prior to being an RMT, he studied Healthcare Management with a postgraduate certificate in Human Resources. However, his passion for helping people live healthy lifestyles lead him to a career path in which he became a Personal Trainer. Ultimately, he decided to further his quality of care and advance his skills by becoming an RMT. He strongly believes the best care involves both manual therapy and active training.
In his downtime, you'll find Peter at the gym, running outside, cooking, watching anime or playing video games. These hobbies have given him more insight and understanding into body mechanics, posture and ergonomics.
Why should patients choose you as their provider instead of others in the area?
I believe that patients should choose a therapist that will listen to their goals and accommodate their specific needs. My practice focuses on patient-centered care and getting to the root cause of the issue in order to provide the best treatment and quality of care.
What are the top 3 treatments that you focus on?
•Deep Swedish techniques
•Pin and Stretch
•Therapeutic Exercises
What are you proud of in your practice?
I am extremely proud of the massage profession because it provides pain relief for patients, promotes recovery, and also gives people the confidence they need to move their bodies freely without the fear of pain. I am also proud to utilize the knowledge and skills I have gained to help improve my patients' quality of life. In addition, I care about supporting and guiding my patients in their times of need.
Which cases do you enjoy treating? Why?
The cases that I enjoy the most are the ones that involve helping my patients return to doing their favourite activities and daily tasks pain-free. The reason being that, in my past, I had experienced chronic shoulder pain, so I am able to empathize with how difficult it can be to not have the ability to do the things we love. At the end of the day, I'm passionate about treating all types of patients and helping them reach their individual and unique goals.
Availability
Monday 10 am – 8 pm
Tuesday 3 pm – 8 pm
Wednesday 10 am – 8 pm
Friday 10 am – 8 pm
Saturday 10 am – 5 pm
Clinic Open 7 days