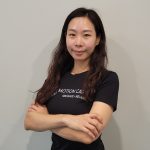 Registered Massage Therapist
Alice graduated from Centennial College of Advanced diploma of massage therapy program. She is passionate about healthy lifestyle and making healthy choices. She strives to provide best therapeutic treatments tailor to her client's condition by understanding the root cause of the discomfort. She loves the fact that her passion can make a difference in the well-being of her clients and reduce stress through her treatment.
Alice is well versed in treating stress related conditions and musculoskeletal conditions such as tendinopathy, compression syndromes, and postural imbalance. Her treatment style consists of a variety of modalities including Swedish massage, myofascial release, trigger points, joint mobilization, and rehabilitation exercise.
Why should patients choose you as their provider instead of others in the area?
I am a firm believer that clients who seek massage therapy are not only looking for someone that can relieve their current symptoms, but also prevents them from reoccurring. I carefully tailor my approach to provide the right treatment for my client by identifying the fundamental cause of the discomfort. Through this approach, clients will feel comfortable and I can provide the right treatment for my clients' condition. More importantly, I place a high value on building positive relationships with my clients by maintaining collaborative, sincere, trust and achievable goals.
What are the top 3 treatments that you focus on?
1) Relaxation and muscle tension reduction.
2) Trigger points
3) Postural dysfunction
What are you proud of in your practice?
I am proud that I can improve my clients' overall health through my knowledge and skills. I am also proud to show my passion in helping others and ability to share my knowledge with clients during treatment. Lastly, I really enjoy watching the improvement that my clients are making and seeing that my treatment is effective.
Which cases do you enjoy treating? Why?
I am very versatile and enjoy treating all types of cases since every case brings different challenges. I like to constantly improve my skills and expand my knowledge in order to enhance my treatment methods.

Availability
Monday 12 pm – 8 pm
Wednesday 12 pm – 5 pm
Saturday 10 am – 5 pm
Clinic Open 7 days