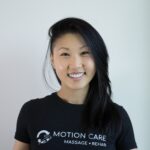 Elaine Chang
Registered Massage Therapist
Elaine is an experienced massage therapist with a passion for health and fitness which is demonstrated by her diligent weight training regimen. Elaine studied massage therapy at Sutherland-Chan School of Massage Therapy and received her diploma in 2016. Prior to becoming an RMT, she completed a Bachelor of Science in kinesiology at the University of Western Ontario in 2014. While studying for her undergraduate degree, she also became certified as a personal trainer by the Canadian Society of Exercise Physiology.
Why should patients choose you as their provider instead of others in the area?
I provide exceptional care to my patients to assist them in reaching their treatment goals, not only by massage but through education as well. I strongly believe that providing this knowledge allows patients to understand what they're experiencing and also how they can play a role in their own rehabilitation. With my expertise in human movement and personal training, I'm able to provide patients with the insight they need to get involved in improving their own well-being.
What are the top 3 treatments that you focus on?
Using Swedish massage techniques, I like to treat with a focused intention, however I am also fond of general relaxation treatments as they play an important role in overall wellness. My practice also focuses a lot on trigger point therapy and deep tissue massage.
What are you proud of in your practice?
I take pride in every part of my practice, whether it be treating a spontaneous tension headache or finally returning an athlete to competition after an injury. My greatest source of pride comes from the relationships I build with my patients and their trust in me as a therapist.
Which cases do you enjoy treating? Why?
I've had experience treating a wide variety of patients and I've found that I work well treating athletes or fitness junkies because they have a better understanding of their own bodies. On the other hand, I also enjoy treating patients who are new to massage therapy because I can teach them about its importance and how it works to benefit their health.

Availability
Monday 10 am – 6 pm
Wednesday 10 am – 6 pm
Friday 10 am – 6 pm
Sunday 10 am – 5 pm
Clinic Open 7 days