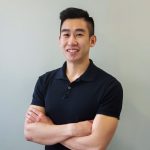 Dr. Gary Ho
Doctor of Chiropractic | Registered Massage Therapist | Orthotics Provider
Dr. Gary Ho is a Chiropractor, Registered Massage Therapist, and an acupuncture provider. After completing his Bachelor of Science in Kinesiology from the University of Waterloo, Dr. Gary decided to follow his passion for health care by completing a Doctor of Chiropractic Degree from the Canadian Memorial Chiropractic College. While in school, he was able to concurrently pursue his Diploma of Massage Therapy from the Royal Canadian College of Massage Therapy through the Advanced Standing program.
In his personal time, Dr. Gary enjoys rock climbing, badminton, volleyball, weight-lifting, ultimate frisbee, and leading a healthy lifestyle. He is able to bring his thorough understanding of the mechanics in these sports into his assessment and treatments to give patients exactly what they need to get back into the game.
Why should patients choose you as their provider instead of others in the area?
As a Chiropractor, Registered Massage Therapist and acupuncture provider, Dr. Gary is able to integrate the knowledge of these three disciplines to create your specific treatment plan to address the root cause of your injuries. He always stays up-to-date with the scientific research on injury management to provide the best possible care to his clients.
Dr. Gary is also a big advocate for movement during injury. He is able to create a treatment plan to work around the injury to restore function without removing the activities you love the most. With Dr. Gary, he will be able to coach you through what is and is not tolerable for each stage of your injury.
What are the top 3 treatments that you specialize in?
Most often you will see Dr. Gary perform chiropractic adjustments, focused muscle therapy techniques, clinical acupuncture, and is a strong advocate for creating tailored exercise programs to keep people feeling better outside of the treatment room. He commonly
includes joint mobilizations, instrument-assisted soft tissue mobilization, kinesiology taping, and laser therapy.
What are you proud of in your practice?
Dr. Gary is proud to perform thorough functional assessments to determine the cause of your aches, pains, and functional limitations. He strives to make your goals his own and will educate you on your injury to best manage them at home. Getting people active and moving is what he is most proud of.
Which cases do you enjoy treating? Why?
His passion is having everyone who walks out of the treatment room feeling better and having a better understanding of their injury. He is well-versed in treating all injuries related to the muscles, joints and nerves, but has special interest in headaches, neck and back pain, sports injuries, enhancing performance, and injury prevention.

Availability
Monday 9 am – 3 pm
Wednesday 9 am – 8 pm
Thursday 9 am – 3 pm
Friday 9 am – 8 pm
Clinic Open 7 days