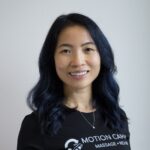 Dr. Gillian Huang
Doctor of Chiropractic | Registered Massage Therapist | Orthotics Provider
If Dr. Gillian isn't at the clinic, you'd probably see her playing badminton, volleyball or finding opportunities to participate in events treating high performance athletes. Her last ones were the PANAM games hosted in Toronto and the World Junior Badminton Championships held in Markham.

She has a genuine passion for working with people in the healthcare field as this enables her to provide hands-on and alternative care to best help people. She completed her Massage Therapy diploma after graduating from McGill University with a Bachelors Degree of Anatomy and Cell Biology. She is a certified Acupuncture Provider through the Contemporary Medical Acupuncture Program at McMaster University. To further her expertise on human kinetics, Gillian has also completed her Doctor of Chiropractic Program degree at the Canadian Memorial Chiropractic College.

She believes "Motion Is Life"; motion being the fundamental of human movement. We often take how our body can perform certain motions for granted, until it becomes a hinderance in our daily life or our activities. Having an active lifestyle is NOT a given; being proactive about it, will bring "Your Life In Motion".
Why should patients choose you as their provider instead of others in the area?
By increasing my tool varieties in the toolbox. It allows me to see the issue from multiple perspectives which in turns allows for precised, catered treatment plans for my patients. The same injury may present very differently on another person, and that person may adapt treatment differently too. Being a Chiropractor, Registered Massage Therapist, and Acupuncture and Orthotics Provider, it gives me a of flexibility to use what I think is best for the patient. My goal is to dig to the core problem and to educate my clients how they can be proactive in their health.
What are the top 3 treatments that you focus on?
My top most common treatments include spinal manipulation, soft tissue therapy, medical acupuncture, laser therapy, education and a tailored functional rehabilitation plan as needed.
What are you proud of in your practice?
I am proud to be a health professional. I am proud to be providing knowledge, education and motivation to individuals to take initiatives in their own health. My message to you: "Choice – You have the ability to choose who you become and the ability to choose your lifestyle. You have the choice to condition and educate yourself in preventing injuries from occurring. There is nothing more important than your health so don't wait until it's too late to take action. Your body is yours and we are here to help"
Which cases do you enjoy treating? Why?
Just like how I chose my electives in Undergrad, I choose to love the most difficult areas to treat in my career
Radiculopathy (sciatica): there are multiple core problems that can cause this. (Radiculopathy can happen in the neck too. This problem can result in debilitating pain.
Shoulder injury: Being a badminton/volleyball player, this ball-socket joint integrity is very important
Knee injury: Such an interesting joint, this injury usually involves other factors, such as ankle/hip inhibitions
Honestly, I enjoy seeing each and every patient, as everyone is unique and different which requires specific care catered to their condition. Whether it be for relaxation, acute pain, chronic pain, sports injuries, etc.

Availability
Monday 3 pm – 8 pm
Tuesday 10 am – 8 pm
Friday 10 am – 8 pm
Saturday 930 am – 3 pm
Sunday 10 am – 5 pm
Clinic Open 7 days