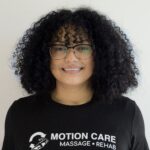 Registered Massage Therapist
Meet Paula! An uber energetic and passionate RMT who's always looking to take her craft to the next level by always putting 110% into the patient's well-being. Having been a patient in the past herself, it has helped her see different approaches in care and has allowed her to create her own style in treating. Her passion stems from all of her previous major injuries in life, requiring her to go through extensive rehabilitation, and ultimately developing the self-discipline & knowledge to succeed. These events provided her with the opportunity to learn and fully experience both sides of the rehabilitation process.
In a session with Paula, you can expect her charismatic attitude and approach to care for your well-being. She genuinely loves what she does and for her, the ultimate end goal is get her patients back to 100%. She find that the first step to success is to align herself as partner to her patients and identify the course towards their health goals. Although she is skilled in treating a variety of different cases, she has vast experience dealing with headaches and knee injuries. The reason being, such cases are very relatable to her past personal and allows her to relate.
Outside of the clinic, you can find Paula at the gym, or enjoying her down time with friends and family. Other passions includes outdoor activities such as going on hikes and camping.
Availability
Tuesday 3 pm – 8 pm
Thursday 3 pm – 8 pm
Sunday 10 am – 5 pm
Clinic Open 7 days