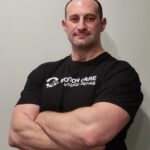 Registered Massage Therapist
Aleksandr has always been interested in sports since he was 7 years old. Growing up, he was also heavily involved in mixed martial arts and gym activities. He played competitive basketball for 17 years until the Soviet Union collapsed. Alex holds a Degree in Physical Education and Kinesiology and a Master's Degree in Kinesiology and Sports Medicine from Ukrainian University.
He spent many years preparing athletes for weightlifting and bodybuilding competitions and that's where he gained knowledge & awareness of the many cause and effects of various injuries. He then decided to pursue another degree in Sport Rehabilitation and Massage Therapy. Alex is certified in reflexology, anticellulite massage, manual lymphatic drainage and, but not limited to deep tissue massage. He also has a high knowledge in nutrition supplement and weight management. This all has helped him provide excellent care for athletes to not just improve their performance but also to prevent injuries.
Alex will continue to share his knowledge and skills as a Registered Massage Therapist at Motion Care Massage & Rehab clinic. Some of his favorite cases to treat are low back pain, postural deformities, various neck issues, and shoulder problems.
When Alex is not working, his attention turns to his family first. His favorite hobbies include playing chess, reading professional books, and of course – going to the gym.
Availability
Monday 3pm – 9 pm
Thursday 3 pm – 9 pm
Friday 2 pm – 9 pm
Saturday 9 am – 5 pm
Clinic Open 7 days