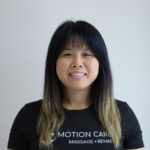 Chih Huey (Bobo) Liu
Registered Massage Therapist
Bobo is a dedicated Registered Massage Therapist (RMT) who's main focus is helping her clients return to pain-free life and retain an optimal well-being. She's earned her Advanced Diploma in Massage Therapy at Centennial College and has an extensive clinical experience at various locations which includes Palliative Care Ward at Michael Garron Hospital, Variety Village and Fountain View Community Care. Over the years, she developed great knowledge and keen interest in treating chronic tension, postural dysfunctions, fibromyalgia and arthritic pain. Bobo is constantly discovering new techniques and helping her clients to diminish pain and discomfort with effective and most current treatment methods in her treatment plan.
To maintain her fitness level, Bobo enjoys going to the gym and taking dance lessons with friends.
Why should patients choose you as their provider instead of others in the area?
I always have the patient's best medical interest and lifestyle consideration when providing a comprehensive treatment plan. I am able to take on the client's feedback and cater to their needs during the treatment session. I work alongside other allied health professionals to provide patient-centered care. Additionally, I educate clients with exercises or stretches to take home – enhancing the treatment's effectiveness.
What are the top 3 treatments that you focus on?
My approach to massage therapy incorporates general swedish massage, deep tissue release and trigger point therapy. This encourages deep relaxation necessary for the body to heal. Below are the top 3 conditions I treat in clinic:
Muscle tension
Strains/sprains
Postural dysfunctions
What are you proud of in your practice?
To know that my hands can heal people naturally is extremely gratifying. I also pride myself in educating my clients and help them prevent future injuries.
Which cases do you enjoy treating? Why?
I enjoy treating clients who have radiculopathy (sciatica), tennis elbow and other complex cases. More commonly known, these two conditions can be excruciating and debilitating which makes every day activities frustrating. I love to solve complex cases – different condition allows me to think outside of the box and utilize different techniques I've learned over the years, specific to the case.

Availability
Wednesday 10 am – 8 pm
Friday 10 am – 8 pm
Saturday 10 am – 5 pm
Sunday 10 am – 5 pm
Clinic Open 7 days