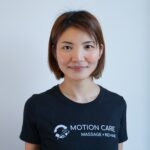 Registered Massage Therapist
Fujiko is a Registered Massage Therapist with over 8 years of combined experience. She started her massage career in Japan, then expanded to Australia and finally settled in Toronto! She has extensively treated various types of symptoms and offers diverse options which includes deep tissue, reflexology, trigger point therapy, shiatsu, injury rehabilitation, cupping and sports massages. Fujiko's dedication to her patients is to ensure that they are equipped with all the knowledge to live a pain-free life!
Fujiko is an explorer, she's lived in Australia for 4 years and has backpacked most countries in southeast Asia. She practices yoga every morning, loves going hiking, biking and enjoying her day off at the beach with a book in hand.
Why should patients choose you as their provider instead of others in the area?
I provide various types of treatment options that cater to what's best for the patients and what they're most comfortable with. I'm looking to build a long term partnership with each patient as their condition will change over time and thus we will work together to adjust accordingly to support your goals.
What should I expect in your session?
I believe that reducing trigger points along with having the right education are very important for a client's recovery. My treatments typically involves a combination of fascial release techniques, trigger points release, stretching and various techniques of Swedish massage.
Which cases do you enjoy treating? Why?
I have vast experience treating various cases from simple to complex and I've had great success in treating neck & shoulder complaints at various severity. I'm confident that I will be able to provide immediate relief for my patients and ensure they are able to return to their optimal self.
What are you proud of in your practice?
As I continue in my career, I believe it's important to continuously learn and improve my skills & knowledge. I appreciate the daily challenges when working directly with clients and I am proud to be a part of their path to recovery. I could not think of a more satisfying career choice.
Availability
Tuesday 12:00 PM – 8:00 pm
Thursday 10:00 AM – 8:00 pm
Sunday 10:00 AM – 5:00 pm
Clinic Open 7 days