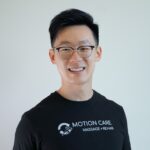 Dr. Frank Xue
Doctor of Chiropractic | Orthotics Provider
Dr. Frank grew up playing different kinds of racket sports and enjoyed being physically active. He had a desire to pursue a career where he is physically active and not be sedentary all day. He pursued a Specialized Honors Bachelor of Kinesiology at Western University. He continued his education at Canadian Memorial Chiropractic College where he graduated with his Doctor of Chiropractic Degree.
During his education, Frank competed in varsity level badminton and he completed his clinical internship at St. Michael's hospital, where Chiropractic care is integrated to foster collaborative care in family medicine. Frank is an evidence-based practitioner who prioritizes patient centered approach and utilizes a diversified technique encompassing a variety of skills including: spinal manipulative therapy, medical acupuncture, soft tissue therapy and functional rehabilitation. He enjoys working with people of all ages and backgrounds and figuring out individualized approaches to each patient!
Why should patients choose you as their provider instead of others in the area?
Honesty and continued learning. Patients can trust me to make recommendations in the best interest of their health! In the field of medicine and health care, advances and new treatment approaches are made everyday, patients can hold me accountable to continue learning and stay up to date to provide high quality care!
What are the top 3 treatments that you focus on?
The top three treatment modalities I use in my practice include soft tissue therapy, acupuncture and joint mobilizations/manipulations. I am also a big believer of movement is medicine and I encourage all my patients to get their weekly physical activity in one form or another.
What are you proud of in your practice?
I am proud to help my patients and empower them to make informed decisions regarding their health in and out of my office!
Which cases do you enjoy treating? Why?
I enjoy treating headaches, shoulder and spinal injuries. Headaches can be very debilitating and managing the severity & frequency can make a huge difference in a person's day to day life. Shoulder girdle is the most mobile joint in the human body and dysfunction of this joint can lead to many other conditions! Spinal injuries are a chiropractors bread and butter, but each patient's presentation will require different approaches and this keeps things interesting!
Availability
Tuesday 9 am – 8 pm
Thursday 9 am – 8 pm
Saturday 9 am – 5 pm
Clinic Open 7 days