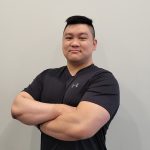 Gary Cao
Registered Massage Therapist
Gary is a Registered Massage Therapist and an advocate of health and fitness. Gary studied massage therapy at Sutherland-Chan School of Massage Therapy. Before Gary was a registered massage therapist he was a personal trainer in Vancouver, BC. Wanting a more hands-on approach to better help his patients, he moved to the GTA in 2018 to pursue a career in massage therapy.
Gary's passion for health and fitness originated in secondary school, where his friends introduced him to the commercial gym, ever since it has grown into a lifestyle for him. Health, fitness and athletic performance are qualities that Gary embodies.
Outside of the clinic, you can find Gary working out at the gym training to become the strongest version of himself, practicing powerlifting and Olympic weightlifting.
Why should patients choose you as their provider instead of others in the area?
I strive to give patients the care they need. I am a patient oriented therapist, and I'm able to cater to the specific needs and wants of each patient, working with them through each step of the process to find a personalized solution. I enjoy meeting and working with everyone and anyone from all walks of life.
What are the top 3 treatments that you focus on?
In my treatment I utilize techniques such as trigger point release, myofascial release technique and Swedish massage. I believe that to solidify our treatment inside the clinic we also need to adhere to a self-care plan incorporating movement. Depending on a case-by-case basis, the techniques I'll be using will accommodate the patient's needs.
What are you proud of in your practice?
I am proud to have the means to treat and help members of the public. It is a passion of mine to work in the health and fitness industry as a professional and having the expertise in doing so. I am also proud to be working with other health professionals alongside me in Motion Care Massage and Rehab Clinic.
Which cases do you enjoy treating? Why?
I've had experience working with many patients from all different backgrounds. I enjoy working with desk workers, athletes, and your everyday average person. Regardless of the cases I enjoy treating. I want the best for my patients. I want to see my patients return to their activities of daily living pain-free.

Availability
Thursday 10 am – 3 pm
Friday 10 am – 8 pm
Sunday 10 am – 5 pm
Clinic Open 7 days