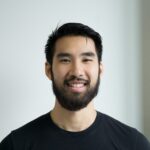 Henry Gui
Registered Massage Therapist
I've always had an interest in sports, biomechanics and the human body. This led me to acquire a Bachelors of Arts in Kinesiology from York University and eventually graduate from the Sutherland-Chan School of Massage Therapy.
My personal journey through injury and pain led me to understand pain in a more comprehensive way. I can say that my recovery from injury has inspired me to help others find their path to recovery.
I believe in a well-rounded approach to treatment that includes manual therapy, but also exercise, mindfulness, and creating structured plans.
Outside of the clinic I enjoy Olympic weightlifting, making a cup of coffee, or researching my next travel destination.
Why should patients choose you as their provider instead of others in the area?
Being injured is not fun. I'm here to help you figure out how to get out of it and become more resilient. Everybody's injury is different and finding out where to start can be difficult. I am confident that we can figure out your next steps to recovery.
What are the top 3 treatments that you focus on?
I'm known to be capable of deep tissue massages, but I believe pressure is a preference. Massage should be about comfort and how you wish to feel after. Some people enjoy some post massage soreness while others enjoy feeling refreshed. Outside of this I do myofascial techniques and coach my patients through rehab exercises.
What are you proud of in your practice?
I genuinely want to help people manage and get out of pain. People who are experiencing pain may not have the knowledge or tools to help themselves. I'm here to help them understand their pain and to encourage them to continue finding solutions.
I base my knowledge on scientific research and try to keep up to date on new evidence.
Which cases do you enjoy treating? Why?
Although there may not be specific cases I enjoy treating more than others, I have built up confidence in specific cases such as tendon injuries, neck pain, knee injuries and lower back pain.
Availability
Wednesday 12 pm – 7 pm
Thursday 3 pm – 8 pm
Friday 3 pm – 8 pm
Saturday 10 am – 5 pm
Sunday 10 am – 5 pm
Clinic Open 7 days