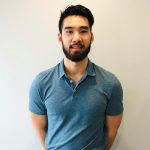 Henry Gui
Registered Massage Therapist
Henry's love for sports started in early high school where he realized the complexities of human movement and its influence on athletic performance. This led him to acquire a Bachelors of Arts in Kinesiology from York University and eventually graduate from the Sutherland-Chan School of Massage Therapy.
Henry believes in a well-rounded approach to treatment. He uses manual therapy in combination with exercise and mindfulness to achieve balance in both body and mind.
Outside of the clinic Henry enjoys olympic weightlifting, making a cup of coffee, or researching his next travel destination.
Why should patients choose you as their provider instead of others in the area?
I will be equally as invested in your goals as you are. I have a commitment to find the best solutions to your problems. I am constantly opening my mind to multiple different approaches in order to improve my practice and to get you to your specific goals.
What are the top 3 treatments that you focus on?
I use a combination of myofascial release techniques, swedish massage and movement-based techniques. I use a more active approach to treatment if my patients come in for treatment related to movement pain or deficiencies. With cases pertaining to stress-induced symptoms I usually have a relaxation based approach to treatment.
What are you proud of in your practice?
I am proud of my passion to help people. My passion drives everything that I do and is the reason I care about every person who steps through the clinic doors. I value a person's willingness to come in to take care of their bodies and I wish to provide the best solutions to whatever they may be experiencing.
Which cases do you enjoy treating? Why?
I am grateful that massage therapy includes a wide variety of cases as it gives me a chance to reach many people. I enjoy challenging cases but also ones that I am familiar with. Chronic pain, tendonitis/tendonosis, knee pain, and shoulder injuries are some of the cases I enjoy treating.
Availability
Tuesday 3 pm – 9 pm
Thursday 3 pm – 8 pm
Saturday 10 am – 5 pm
Sunday 10 am – 5 pm
Clinic Open 7 days