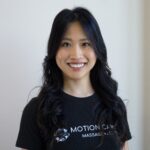 Dr. Kelly Tsui
Doctor of Chiropractic | Registered Massage Therapist | Orthotics Provider
After receiving her Bachelor of Science (Honours) degree from the University of Toronto, Dr. Tsui obtained her Doctor of Chiropractic degree at the Canadian Memorial Chiropractic College. Dr. Tsui is also certified in Clinical Acupuncture from the Acupuncture Council of Ontario. Throughout her career, Dr. Tsui was involved in various outreaches including the World Junior Badminton Championship, Pan Am Badminton Championship and the Interprofessional Education Beach Volleyball Tournament in the Greater Toronto Area.
Which cases do you enjoy treating? Why?
I have excellent success in treating acute low back radiculopathy and sciatica, chronic whiplash disorder, achilles tendinitis, frozen shoulder, headaches and sports injuries. I believe that the combination of chiropractic care facilitating the restoration of the human body with proper education and a persevering attitude in active lifestyle, everyone will gain an optimal balance in health. I enjoy seeing patients from all walks of life getting better, stronger and healthier.
What are the top 3 treatments that you specialize in?
Some of my most common treatments include Chiropractic Adjustments (quick, controlled thrust) and Mobilizations (slow, rhythmic movements), Myofascial Release Techniques (soft tissue therapy), and Acupuncture on the injured tissue. The purposes of these therapies are to get irritated joints moving properly, relax tight muscles, release natural painkillers in the body, decrease swelling and increase blood flow to the area – all of which promote recovery and health. Depending on the complaints, I may provide strengthening and rehabilitative exercises, postural and nutritional education, custom-made orthotics, and pregnancy and female care.
What are you proud of in your practice?
The highlight of my career was when I had the opportunity to work as part of the medical team at the Pan Am Badminton Tournament in 2014. I got a chance to meet fellow doctors and professionals from all over America while treating these high performance athletes. Of all the amazing experiences, the one that stands out the most was when one of the players from Team Canada walked up to our treating area and asked us about how he can become a chiropractor like us when he grows up. It was very gratifying to see them so appreciative of our care and support.
Why should patients choose you as their provider instead of others in the area?
By combining my knowledge of biomechanics, anatomy and injury mechanics, I provide my patients with a thorough assessment and diagnosis of their neuromuscloskeletal (nerves, muscles and joints) complaints. Health education, exercise guidance and therapeutic care are fundamental to my practice to help people of all ages return to their active healthy lifestyles.

Availability
Tuesday 10 am – 8 pm
Thursday 10 am – 8 pm
Saturday 10 am – 5 pm
Sunday 10 am – 5 pm
Clinic Open 7 days