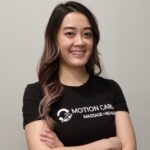 Registered Massage Therapist
My name is Michelle! I strive to provide the best patient care to all walks of life through hands-on work and education. I completed my diploma at Sutherland-Chan School of Massage Therapy after graduating with a Bachelors of Arts in Psychology in 2017. I chose the career as an RMT because of the boundless opportunities I can venture into that not only allows me to provide the best care to all patients, but it also allows me to learn and grow as a practitioner, and as an individual.
I am a beloved fan of Disney theme parks and cannot wait for my next visit! Aside from patient care, you'll find me spending my time with my family, my 2 dogs, doing hot yoga and attending music festivals.
Which cases do you enjoy treating? Why?
I enjoy finding tension spots in places where the client may not even be aware they were there. I love being able to relieve these spots before they may become problematic to the client in the future. I also enjoy relaxation and therapeutic massage treatments to help with local pain and stress. I am in the process of continuing my education to specialize in Lymphatic Drainage, which helps to relieve excessive swelling and fluid accumulation. I am very excited to be able to provide this type of service to the clinic in the future.
What are you proud of in your practice?
I am very proud of having the opportunity to treat, educate and help clients reach their health goal in a collaboratively manner. Care should be never ending, I will always provide my clients with some self-care to be done at home.
Why should patients choose you as their provider?
As a massage therapist, I am reliable and my goal is to always to put my clients first. I ensure clients receive the best care and treatment to meet their own goal towards their health and wellness journey.
Availability
Tuesday 10 am – 8 pm
Wednesday 3 pm – 9 pm
Friday 10 am – 8 pm
Saturday 10 am – 5 pm
Clinic Open 7 days