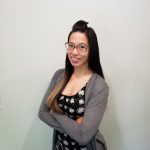 Michelle Wong
Physiotherapist
Michelle completed her Bachelor of Science (Honours Biomedical Sciences) degree at the University of Waterloo, then earned her Master of Physical Therapy degree from Western University. She is a very hands-on & personable physiotherapist, and always greets her patients with a friendly smile 🙂
Why should patients choose you as their provider instead of others in the area?
I love sharing my passion for health, movement, and physical activity with others, so the opportunity to help someone restore their functional mobility and quality of life drives me to always do my best for my patients.
What are the top 3 treatments that you focus on?
My most common treatments include joint mobilizations, soft tissue stretches, and prescribing joint-specific exercises to aid in restoring range of motion and strength.
What are you proud of in your practice?
It is most rewarding to see my patients recover from their physical injuries, regain confidence in their movements, and be able to engage once again in their physical activities. This motivates me to assist my patients with achieving their treatment goals and getting back into their regular routines, as well as continue to educate them on preventing future injuries.
Which cases do you enjoy treating? Why?
I enjoy treating all cases, whether acute or chronic, young or old, however I have extensive experience in treating whiplash associated disorders, frozen shoulders, hand & wrist injuries, and foot & ankle sprains.

Availability
Monday 3 pm – 8 pm
Tuesday 10 am – 6 pm
Thursday 10 am – 8 pm
Friday 3 pm – 8 pm
Saturday 1:30 pm – 5 pm
aSun 11:30 am – 5 pm
Clinic Open 7 days