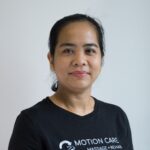 Registered Massage Therapist
Roselle used to be a teacher for many years in the Philippines and became a caregiver from 2012-2017 in Canada. Her strong background in care giving and teaching sparked her passion of ultimately becoming a Registered Massage Therapist. The 2 background actually are huge in the healthcare world as she believes not only is genuine care needed, but the education to teach and inform knowledge to patients are all big parts of making a difference in everyone's life. Her focus during her treatments is to understand your goals and create a specific program catered to your case. She is always striving to educate and empower her patients to live a pain free lifestyle doing all the activities that are important to them.
Roselle loves to spend time with her family on her free time. She enjoys going on daily walks, hiking and can't forget about cooking all types of cuisine!
Why should patients choose you as their provider instead of others in the area?
Roselle has strong emotional intelligence from her previous experience as a caregiver and extensive experience with treating various types of conditions. She believes in building long lasting relationships with her patients to see them through their tough times in any aspect of their lives. Roselle is ready to help you with your movement journey through education and connection.
What should I expect in your session?
Roselle has extensive training in various treatment techniques, and her goal is to get you back to 100% as much as possible. You can expect a quick consultation and assessment based on your request, whether it is for relaxation or a specific problem you're coming for. Roselle will build the most appropriate program suited to your needs.
Which cases do you enjoy treating? Why?
Her strengths have been treating patients with upper and lower back pain. These 2 problematic areas are very common in today's population based on our lifestyle. Her treatment techniques are strongly based in manual therapy, therapeutic exercise and education to allow patients to not only experience immediate relief of their pain but to also get down to the cause of the problem.

Availability
Monday 10 am – 4:30 pm
Tuesday 10 am – 4:30 pm
Thursday 10 am – 5 pm
Clinic Open 7 days