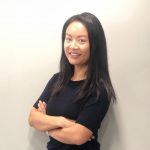 Susan Leung
Physiotherapist, FCAMP | Pelvic Health
Susan graduated with an Honours Bachelor of Science degree with a specialization in Kinesiology and a Masters in Physical Therapy from Queen's University. She continued to pursue numerous post-graduate training courses from the Orthopaedic Division of the Canadian Physiotherapy Association and successfully received her Advanced Diploma in Manual and Manipulative Physiotherapy.
During her spare time, Susan enjoys spending time with her dog Minnie, shopping for houseplants, and building jigsaw puzzles. Occasionally, she can be found jogging, cycling and rock climbing.
Why should patients choose you as their provider instead of others in the area?
Patients should choose me to be their health provider because I am genuine, honest, and detail- oriented in my treatment approach. And because I am not a big fan of taking short cuts, I remain very meticulous and thorough during each assessment. I believe that this is crucial if the goal is to expose the root cause of one's condition, as opposed to simply chasing temporary band-aid solutions.
What are the top 3 treatments that you specialize in?
Over the years, I have learned to equip myself with different treatment tools and techniques in order to successfully service a wide range of body types, since there may be individual differences in how one may tolerate certain treatment methods. Generally, I utilize manual therapy techniques (joint mobilizations and/or manipulations) in conjunction with soft tissue techniques, dry needling, taping, exercise prescription and patient education to offer a multi- modal approach.
What are you proud of in your practice?
I am committed to building trusting relationships, and motivating patients to take an active role in the rehabilitative process to achieve their personal goals and prevent future injuries. The ability to enhance an individual's physical independence and quality of life is truly a fulfilling experience that brings personal satisfaction like no other, and I am beyond grateful to be in a profession that allows me to do so on a daily basis.
Which cases do you enjoy treating? Why?
I treat every condition with a high level of care and regard irrespective of the body part involved. However, I particularly enjoy treating jaws, shoulders and pelvic conditions–mostly because of my history of having dealt with injuries to these areas myself.

Availability
Wednesday 12 pm – 8 pm
Saturday 10 am – 5 pm
Clinic Open 7 days