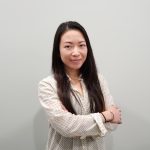 Sandy Li
Registered Massage Therapist
After moving back to Toronto in 2012, Sandi had worked as a receptionist in multi-disciplinary clinics which prompted her to pursue a career as a massage therapist. Sandi graduated from Canadian College of Massage and Hydrotherapy and currently working in a variety of settings including clinic, spa and mobile. Sandi is diverse in her treatment options; including trigger point therapy, myofascial release, injury rehabilitation and Swedish. Her hobbies include fitness, photography, drawing, trying out different restaurants, and travel.
Why should patients choose you as their provider instead of others in the area?
As a health care service provider, knowing a combination of skills and experiences with a fundamental of knowledge is essential to everyone who seeks treatments. I'm passionate and devoted to the job I love which allows me to utilize what I've been taught in massage school and in real life. I enjoy furthering my education and continuing to gain an even better understanding of our complex bodies and how they function.
What are the top 3 treatments that you focus on?
Sandi has extensive experience in treating, but are not limited to, headaches, stress relief, repetitive strain and postural dysfunction.
What are you proud of in your practice?
I am most proud of being able to help people out in tough situations and being able to satisfy my patients that come in the door.
Which cases do you enjoy treating? Why?
I would say all cases are interesting to treat whether it is an acute or a chronic condition. To make the cases more enjoyable to treat, I believe in the importance of assessment prior to and during treatments to help determine the underlying issues.

Availability
Thursday 12 pm – 6 pm
Friday 3 pm – 8 pm
Sunday 10 am – 5 pm
Clinic Open 7 days