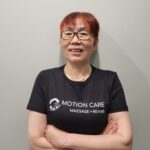 Registered Massage Therapist
Yan has over 15 years of experience in the health care industry with deep knowledge in neck, shoulder and lower back treatments. She has a strong education background with credentials from both Tianjin Chinese Medicine school in China and College of Traditional Chinese Medicine & Pharmacology for Massage Therapy in Canada. Yan has developed an abundance of love and genuine passion for helping people through massage therapy. She enjoys this as a part-time on top of her full time job at life labs. Whether you're looking for a deep tissue or a relaxation or a treatment based session, Yan will help you achieve your goals during your journey in wellbeing!
Outside of the clinic, Yan loves to read and she is a collector! Paintings, stamps, coins, antiques or anything beautiful that catches her eye, you name it!
Why should patients choose you as their provider instead of others in the area?
I am a trust-worthy person and a good listener. My practice centers around developing individualized treatment plans as one treatment plan does not fit everyone equally. I believe in order to achieve this, positive communication is key. By working together, patients can feel healthier and happier in a supportive environment. I encourage my patients to become active participants in their health journey.
What are the top 3 treatments that you focus on?
Combining Traditional Chinese and Swedish massage techniques – I have extensive experience with Swedish massage, trigger point therapy, deep tissue massage, therapeutic massage, myofascial release, proprioceptive neuromuscular facilitation, pregnancy/prenatal massage, lymphatic drainage, reflexology and many more. I take great pride in my skills and I look forward to adding more to this list! I use these treatments and others to improve function and to provide pain relief.
What are you proud of in your practice?
I am proud to see progress with my patients whether it be big or small. An aspect of my job that makes it so enjoyable is the fact that some effects of treatment are tangible. It's very encouraging to hear patients express relief that their discomforts have been alleviated or that they've noticed improvements in their functions. I take pride in making a difference!
Which cases do you enjoy treating? Why?
I value every case because everyone's experience is different. I work at two clinics with varying populations, and each case adds knowledge to help me become a better, well rounded therapist.

Availability
Monday 3 pm – 8 pm
Sunday 10 am – 5 pm
Clinic Open 7 days